on Mon Dec 24, 2018 3:48 am
Hello,
The target follower function is not working for me in the Instagram Promo module, and I now saw that this feature is bugged until next update 0.2.33 (from post by Ian in
http://somiibo.forumotion.com/t318-follow-by-usernames
thread), which has still not come out yet since Dec 19th when you made this comment. This feature was the reason I bought Somiibo Premium in the first place, and without it working i'm basically wasting my days of premium until the update with the fix comes out. Is there anyway to "pause" my Somiibo Premium membership until the feature is fixed again?
Thanks and regards,
Kevin.
on Wed Dec 26, 2018 12:33 pm
The release should be coming within a few days. We don't have an option to pause your monthly subscription but there are plenty of other marketing features you can use for IG while this issue is fixed. Thanks for being patient.
on Tue Jan 01, 2019 3:53 am
Any update on this? I don't think you understand - I have a single month subscription of Somiibo and so far I haven't even got to use the main function which I bought it for. "Being patient" isn't going to help me when the module is fixed after my subscription ends. Using the other Somiibo promo features results in a lot of bot follows which is not what I want. The username feature brings in a lot of organic follows which is why I am so adamant on using only that.
on Fri Jan 04, 2019 10:23 am
on Wed Jan 09, 2019 6:57 am
I've been testing this update and the follow by username function works correctly for the Soundcloud Promo/Twitter Promo modules but it
STILL does not work properly for the Instagram Promo module
. It only manages to follow 2 to 7 people by a given username and does not exceed that amount no matter how much time you give it. The IG promo module was run with no filters so it is not that causing the problem either. I've left the module running for upto 8 hours with similar results - it seems that the module does not attempt to follow users of the given username past the first few users that have last followed the given username (module does not scroll down to follow more users of the given username) in the Instagram promo module.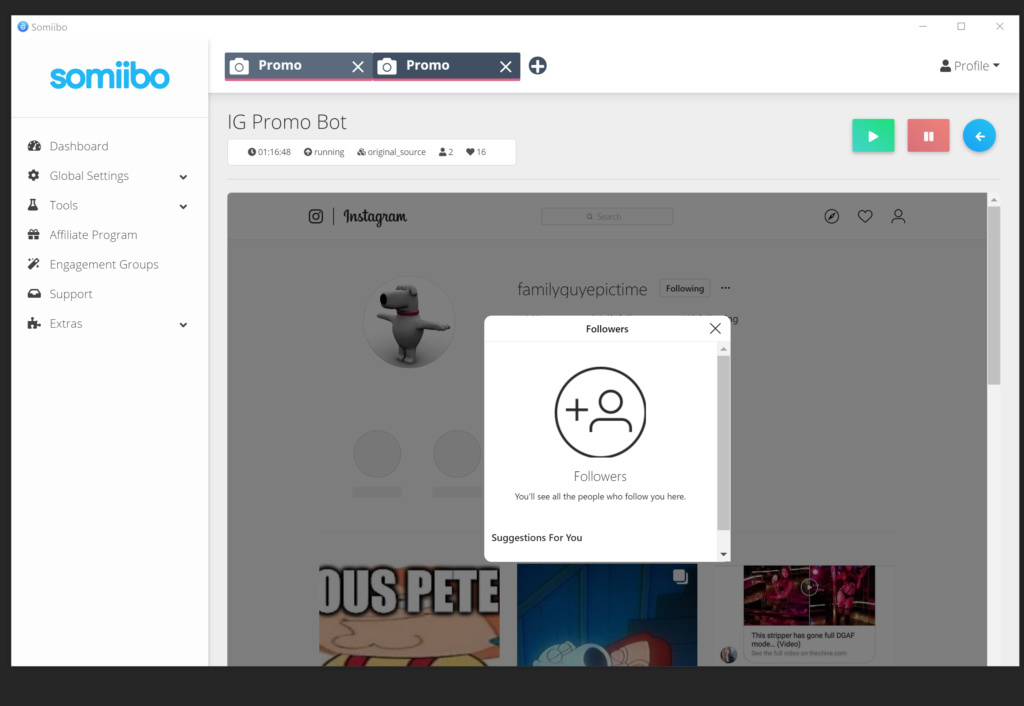 on Wed Jan 09, 2019 1:32 pm
Hi again. I will look into this but I suggest you provide usernames of accounts with a lot of followers (in the tens of thousands to millions) as it will not be effective on smaller accounts anyway. This is what the feature was designed for.
Same issue, targeting by name has stopped working with this update...wasting my premium

Permissions in this forum:
You
cannot
reply to topics in this forum